We were the first disability service provider to be rolling out the new and approved Pfizer COVID-19 vaccinations. Participants were in Phase 1a, as were quarantine, border, and frontline health workers.
The first 20 vaccinations happened at Castle Hill Medical Centre. This media event was shown live across the country and our own Disability Support Worker Mila Thomas was the 7th person in Australia to receive the vaccine and the first Ability Options employee.
This hallmark event included guests Prime Minister Scott Morrison, Minister for Health Greg Hunt and Chief Medical Officer of Australia Paul Kelly. As part of Phase 1a, other vaccine recipients were aged care residents, aged care workers, disability support residents, border force, army, and navy personnel, as well as doctors and nurses.
This was a moment in history for Ability Options. Mila did an amazing job in representing us. She upheld our Vision, Mission and Values by leading our community and showing courage.
"I am here to have the 7th COVID-19 vaccine in Australia, I hope everyone follows me and gets vaccinated, for their own safety and for the health of participants that we're supporting and people in our community." – Mila
We had checked in with Mila on the following morning, she was bright and well after working that night!
"I am feeling great, (same as normal)".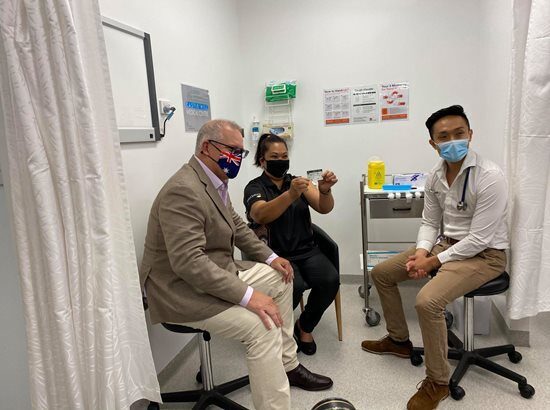 At Ability Options, we support the continued rollout of the COVID-19 vaccination, to ensure wellbeing and safety for participants and staff. Throughout 2021, more staff will be encouraged to receive the vaccine. Although COVID-19 vaccination is not yet mandated, our vaccination policy is a crucial element of keeping people safe.
Thanks, Mila, for all your hard work, you are a trailblazer!