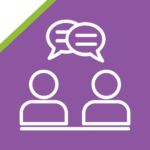 When Fiona began attending counselling sessions back in February, she felt lost and was unsure of where she stood in the world. She was referred to our Vocational Counsellor, Stephanie, and now has a safe space to talk about her challenges with someone and find some solutions.      
During her first session with Stephanie, Fiona, who spent many years as a successful dental nurse, talked about the challenges in dealing with anxiety, grief, and trauma and how they affected her day-to-day life. Stephanie wanted to get to know Fiona and have a better understanding of what she was going through. During their sessions together, Stephanie asked Fiona questions about the causes of her anxiety and used varied treatment methods to help her overcome these challenges. This allowed Fiona to reflect on herself and stay motivated in finding something to do to keep her mind active.    
Fiona soon secured a volunteer role as a Support Visitor at HammondCare, which began to improve her life and mental wellbeing as soon as she started working in the role. She said she had found a purpose through helping other people through their own challenges and added the supportive work environment helped her develop strategies to face and overcome her own challenges. Shortly after she started her role, Fiona finished her therapy sessions with Stephanie.   
Fiona's wellbeing has improved, and she continues to contribute to her community through her role as a volunteer. Thanks to Stephanie's support throughout her therapy sessions, Fiona said she is moving towards a brighter future thanks to her hard work overcoming her challenges using the support she received. Fiona said she is grateful to Stephanie for listening to her story and supporting her in navigating through her life journey to get to where she is now.   
"Because of Stephanie, I now feel stronger mentally as I step into my new role as a volunteer Support Visitor at HammondCare, Erina. Stephanie is an outstanding mental health counsellor, one who possesses excellent skills in listening, personal guidance, and understanding her clients' individual needs."   
Stephanie is happy Fiona has found meaningful work that has given her a new direction in life and is pleased she was able to support her journey. She believes that having a conversation with someone and being listened to can make a big difference to a person's life during a difficult time, no matter what stage they are at in their lives.   
"I think the main reason Fiona felt satisfied with the counselling was not because of anything I did, nor was it the techniques or procedures I performed, but the fact that someone listened and was present. I really think that was it. I feel like we underestimate the value of someone listening to us and how much power that holds. You can never replace human connection when it comes to growth and healing. Nothing magic was done here at all."    
At Ability Options, we offer a wide range of comprehensive therapy services across both Sydney and the Hunter regions, that are designed to help you get the most out of your life. Our therapy services are suited to people of all ages, abilities, and aspirations, and can be accessed through NDIS funding, Medicare, our Employment service, and Fee for Service. Our therapy team provide these services to individuals through both face-to-face and online (telehealth) every day of the week and will work to support you in identifying your goals and work towards achieving them.  To find out more about our therapy services and how we can support you, visit the following link below.     
https://abilityoptions.org.au/disability-services/therapy-services/