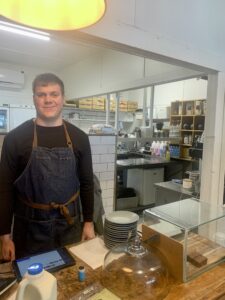 After just two months with Ability Options' WorkReady program, participant Seth got to put his newly learned skills into practice when he landed his first paid role in the workforce, after completing a work experience placement at a café.
In early 2022, Seth joined Ability Options' WorkReady program at Hornsby with the goal of securing paid employment to reach his goal of becoming more independent.
Supported by his WorkReady Consultant, Leanne, Seth quickly learned to navigate his own independence through public transport, and learned key communication skills, active listening, budgeting, and motivation and initiative training.
When he started his first work experience placement at Dangar Island Depot café and general store, Seth says he enjoyed learning valuable work skills through the various tasks given to him at his placement. He says the tasks he undertook, including working as a kitchenhand, learning how to use unfamiliar appliances, improving his organisational skills, and building his confidence and communication skills through conversing with the customers, really helped him understand more about working in the hospitality sector and develop his social skills.
"I enjoyed working with the friendly team at the café. One day, I would like to learn how to make coffee and utilise my physical strength by helping with the store deliveries at the dock," he said.
The positive and supportive environment at the Dangar Island Depot café, combined with his eagerness to learn on the job and through his skills training with WorkReady, led Seth to receive a job offer for paid employment.
With the assistance of the Ability Options Community Engagement team (CEC), Seth officially commenced with Disability Employment Services (DES) and was placed in his new paid role at Dangar Island Depot in June. With the combined support of WorkReady, CEC, and DES, in conjunction with Seth's supportive employer, Seth continues to grow and thrive in his new position. Seth continues to receive ongoing support from DES and has already started carrying out additional duties. His eagerness to help and willingness to learn new things has been a testament to his commitment and work ethic.
Seth said he was determined to not let his disability hold him back from his commitments, having learned quickly to navigate a ferry and a long train trip to travel independently to and from his sessions.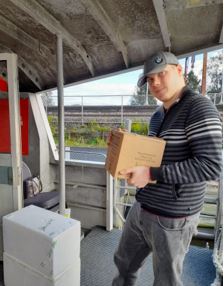 Seth was keen to attend weekly workshops and was a regular on most Industry Days, showing great commitment to his development. Learning and growing these skills gave him the confidence to take that first step of gaining work experience in a local café.
Seth enrolled in the program and quickly showed his eagerness to learn and work towards his employment goals. His drive to become more independent had paid off, when his employment offer came through from the café.
WorkReady is a service that prepares and equips people with the basic skills, knowledge, and experience to enter or re-enter the workforce with confidence. Funding for WorkReady is available through SLES or Finding and Keeping a Job under the NDIS.
To find out more about employment assistance available through the NDIS, click here.