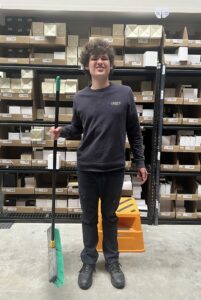 Meet Thomas, an Ability Options participant who joined the WorkReady program with the goal of learning new skills to find and keep a job.
Thomas has been working with his WorkReady Consultant, Robert, to identify and develop key job skills, including resumé and cover letter writing as well as job-seeking and interview skills. Thomas has also been supported by Robert to create a step-by-step plan to boost his confidence to make use of the skills he has learned to find and secure employment.
Thomas says his experience in Ability Options' WorkReady program has really helped him feel motivated to find work, and support from his WorkReady Consultant, Robert, has been instrumental in helping him work towards his goals.
He says he really appreciates the support he receives from Ability Options. Throughout his time working with the WorkReady service, he has enhanced his current skillset to open the door to more work opportunities.
"Robert is very nice and understanding," Thomas said. "I feel like he is helping me achieve my goals as he helps me learn new skills for work."
With Robert's support and encouragement, Thomas kept working hard towards his goals and made sure to keep practicing his newly learned skills. His hard work eventually paid off after he secured his first job as an all-rounder Team Member at Impulse Purchase Specialists.
"Having a job means a lot to me. One day, I would like to work for Sydney Trains or maybe become a dog walker," he said.
Thomas has been working in this job for two years and says it is his biggest accomplishment in his employment journey, thanks to the valuable support from Ability Options and says he feels proud to be able to support himself with the money he earns. Since achieving this milestone, Thomas is embracing his independence and is working towards his next goal of living independently. He says, in the future, he wants to live in his own home and pursue additional job opportunities.
"I am now saving the money I earn through my job to one day buy a house so I can live independently."
Thanks to the hard work and dedication Thomas has put in to achieve his employment goals through Ability Options' services, and thanks to his support circle, Thomas says he is living his best life and continues to aim high.
"I feel motivated in moving forward and unlocking the next steps in my life," he said.
For others embarking on this journey, he has some advice.
"Don't give up. Keep trying. You will eventually get there."
To learn how Ability Options can support you through our WorkReady program, click here.