This year, we collated recipes from all over Ability Options. There isn't one more appreciated cultural export than food and we're thrilled to share and celebrate our cultures and diversity through our different cuisines.
Harmony Week and Harmony Day bring together Australians from all different backgrounds. At Ability Options, we proudly support and work alongside a culturally diverse community representing many different nationalities.
We know that one in seven of our staff know a language other than English, and a staggering 86 languages are spoken across all participants and staff organisation wide. Not only are we lucky to share such a culturally rich and diverse workplace, we're all also lucky to live in such a diverse country that has welcomed a plethora of multicultural cuisines.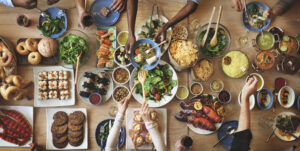 Below are the some of the recipes we were lucky enough to have shared with us by our colleagues.  
Adobo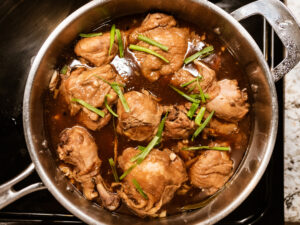 Background: Filipino – "I was born in the Philippines. I came in Australia as a fiancée visa through my pen pal and married an Australian man. I have two children; my girl is 41 years old, and my boy is 32 years old."
Recipe: 
Our specialty is called Adobo. It's easy to make, as you can use any meat you prefer. I cook Adobo now and then, to share with my family. It's very simple, everyone can do it! The main ingredient is mostly either pork, or chicken, with other ingredients being vinegar, garlic, onion, bay leaf soy sauce, pepper, a little bit of water to combine it all.
Mila didn't share her family secrets with us (we get it) but here is another great recipe you could try at home: https://www.recipetineats.com/filipino-chicken-adobo-flavour-kapow/
Mum's 'Secret Ingredient' Chocolate Cake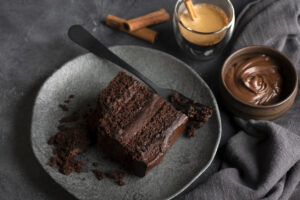 Background: Irish heritage, a long time ago!
Recipe:
Ingredients:
1 3/4 cups self-raising flour
1/2 teaspoon bicarb soda
1/4 teaspoon salt
1/2 cup cocoa
2 eggs
1 1/4 cup sugar
125 grams butter
1 cup milk
1 teaspoon vanilla
1 tablespoon raspberry jam (secret ingredient)
Method:
Sift dry ingredients into a large bowl add sugar, add melted butter gradually and mix well. Add milk and vanilla, beat well, add lightly beaten eggs gradually, beating well after each addition. Put mixture into a well-greased deep tin. Bake in moderate oven at 180 degrees Celsius for 60-65 minutes, or until cooked when tested. Finally, top with chocolate icing.
Chocolate Icing – mix all together and spread on the cake.
1 1/2 cups icing sugar
2 teaspoons cocoa
2 teaspoons butter
2 tablespoons water
Favourite food memory:
My mum used to make this cake for all our special occasions. She shared the recipe with others but always left out one "secret" ingredient so theirs was never as good as hers! My wife asked her one day why her cakes were never as moist as the ones mum made, she said to add the "secret ingredient" which is one tablespoon of red jam! Makes all the difference!
Oliebollen (Dutch Donuts)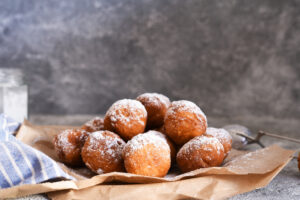 Background: Both of my parents are Dutch, having migrated to Australia when they were first married. The Netherlands is well-known for its clogs, windmills, and cheeses.
Recipe:
Traditional Dutch Oliebollen (literally "oil balls") are also known as Dutch donuts. In the Netherlands, where New Year's Eve temperatures usually dip below freezing, it's traditional to have these warm, deep-fried, cinnamon-sugar-dusted treats on New Year's Eve.
Ingredients:
• ¼ cup plus 1 teaspoon sugar, divided
• ½ cup lukewarm water
• 4 ½ teaspoons instant dry yeast
• ⅓ cup currants
• ½ cup raisins
• 4 cups all-purpose flour
• 2 large eggs
• 2 cups milk
• 1 teaspoon salt
• Vegetable oil, for frying
• Icing sugar, for garnish
• Cinnamon, for garnish
Method:
1. In a small bowl, mix one teaspoon sugar into the water. Sprinkle the yeast on top and allow to stand for 10 minutes
2. In a large bowl, combine the flour and remaining 1/4 cup sugar. Make a well in the centre. Add the eggs and the yeast mixture to the well.
3. Warm up the milk in the microwave until it is lukewarm. Add half of the milk to the well. Mix until all the ingredients are combined. Add the rest of the milk, currants and raisins and mix until smooth (you can also add apple)
4. Cover the bowl with a damp tea towel and allow to rise in a warm area for about one hour. Once the dough has doubled, stir in the salt, and let sit while you heat the oil. The dough will be wet, which is normal.
5. Heat about 8cm of oil in a large, heavy-duty pot or deep fryer to 180°C. To check whether the oil is at the right temperature, stand the handle of a wooden spoon in the oil. If little bubbles form around it, the oil is ready.
6. Quickly dip two tablespoons into the oil and form small balls of the dough with the oiled tablespoons, carefully scraping and dropping the dough into the hot oil. The Oliebollen will sink to the bottom of the pan and then pop right back up. You should be able to fry at least six at a time, but don't crowd the pot.
7. Fry until golden brown on both sides, carefully flipping when required. Drain on a tray lined with paper towels
8. Sift icing sugar over the Oliebollen as well as a dusting of cinnamon and serve warm.
Welsh Rarebit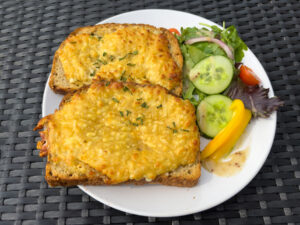 ​​​​​​​​​​​Background: I am from Wales, a part of the UK where we speak Welsh and English. Welsh is a totally different language to English. It is not just a dialect of English. It is as different to English as Spanish is to German. The closest language to Welsh is French and both French and Welsh form part of the Celtic Heritage, not to be confused with Scotland and Ireland, which are both part of the Gaelic Heritage. Gaelic and Celtic culture do share some similarities, more so than with Anglo Saxon (English) culture. Sadly, when I was at school in the 60s, Welsh was being phased out and English was taking over as our main language. Happily, that is changing now and every child in Wales is now learning Welsh again in school.
We also now have our own regional Welsh Assembly again, which is like our State Government, so we have more power to govern "the Welsh way" rather than always following Westminster. The Welsh are known for their beautiful singing, happy nature, poetry, and mad sense of humour. In-fact, we are all just slightly mad in Wales, me included. Our spectacular flag features a red dragon on a green and white background. Our national day is March 1st, which is St. David's Day. Our national flower is the yellow daffodil, our national colour is yellow, and our national vegetable is the leek.
Fun Fact: Wales has more rain on average than Ireland! Wales has the highest annual rainfall of any European Country.
Recipe: 
This isn't just cheese on toast, as many people might think. It is bread toasted on one side only, so you have to use the oven grill: not the toaster. The topping is made by whisking an egg, melted butter and grated cheese in small frying pan, then adding a little flat beer, Worcestershire sauce (optional) and a teaspoon of mustard that is poured on the bread and popped under a grill until toasty brown. This meal is perfect on a wet, cold Welsh winter's morning by an open fire.
Favourite food memory:
We had no central heating when I was a child. My mother got up at 5am every morning to light the coal fire (which heated the back boiler) so we could have hot water in the house. My mum would make this on our stove in the kitchen, then bring it to us in our tiny living room. We would sit in front of the coal fire (our only heating in the house) eating our Welsh Rarebit with the melted cheese running down our chins. My mum passed when I was 10, so this memory is one of my happiest from my childhood.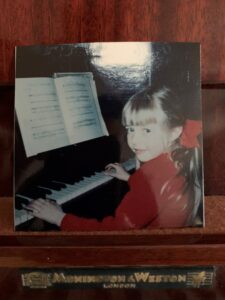 The above picture is of me playing the piano (before the days of electric keyboards of course) in that same room when I was eight. The piano cost five pounds, was very old, and took up so much space in our tiny living room that we could hardly sit at our table to eat.
Yorkshire Pudding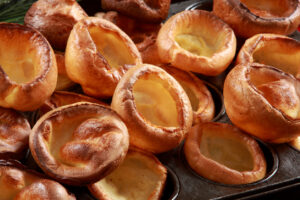 Background: British
Recipe:
"Yorkshire Pudding goes as a starter with a main or just as a pudding. Being both cheap and filling – you can even put sausages in it and make Toad-in-the-Hole. Reminds me of my mum and father-in-law. Both make great Yorkshires. Mine are hit and miss and can end up as pancakes!"
Start with flour, eggs, and milk. Proportions are two tablespoons of flour to a cup of milk and one egg. Make a batter. Put it in a tin, then place it in a very hot oven for 10 minutes and keep the oven door closed. Cross your fingers and hope it rises! Eat it as a starter with gravy (Bisto from the International aisle or make your own) or with a roast, or hot with jam and pouring cream. Great in winter!
Favourite food memory:
My mum's Sunday lunches. We all had to be there. No excuses until we all left home, then we migrated back for a regular feed. We ate at the table with a tablecloth. No one could start without asking or leave until the whole meal was finished. There were great family arguments and discussions. As me and my brothers grew up, politics, pop and news took over! I've sort of followed the same pattern with my family. We still have Sunday lunch whenever we can, although I only get the tablecloth out at Christmas and Easter. For the rest of the year, it's still the table but just mats.