It's the week of our 2023 STAR Awards Ceremony!  
Our STAR Awards highlight, recognise and reward our people for the incredible work they do in line with Ability Options' core values of Trust, Respect, Inclusion, Courage and to Lead. 
We're thrilled to introduce our roster of this year's sponsors and are incredibly thankful for their generous support and contributions to the biggest night in the Ability Options calendar. Their contribution makes the night possible, allowing us to celebrate our people who support participants to live the lives they choose. 
Gold Sponsor: Speak Your Language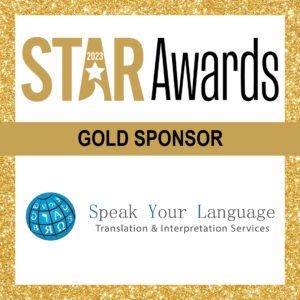 We would like to thank the Major Sponsor of our 2023 STAR Awards, Speak Your Language.
Speak Your Language (SYL) is an Australian owned and operated translation and interpretation company with the capacity to offer services for over 150 languages and dialects supported by NAATI certified quality interpreters and translators. SYL has come to be associated with service excellence, high quality translations, interpretations and outstanding value. Whether you need help interpreting or translating legal, medical, technical, website content, or personal correspondence, Speak Your Language can provide the solution.
SYL provides services such as:
On the spot Telephone Interpreting
On the spot Telephone Conferencing (for outbound client calls) Up to 5 parties.
On-Site Interpreting (Face to Face Interpreting)
Video Interpreting
Message Delivery
Reverse Phone Interpreting
Translations of all documents
Contact Speak Your Language on 1300 000 795 or enquiries@syl.com.au
Our Silver Sponsors

We would like to thank this year's Silver Sponsors: Brennan, CoAct Connect, Interleasing, Maxxia and Orchard Talent Group. 
Our Bronze Sponsors

We further extend our thanks to this year's Bronze Sponsors – Canon, DPN Casa Capace, Graphic Print Consultancy, HESTA, and Woolworths.
A special thank you to our most dedicated sponsors.
A range of our sponsors have been generous enough to support us for multiple years running. We look forward to continuing our partnerships with them for years to comeincluding: 
Since 2021, DPN Casa Capace, Interleasing and Brennan (formerly MOQdigital).

 

Since 2022, Canon, Graphic Print Consultancy, HESTA,  Maxxia, and Orchard Talent Group.


 
We'd like to extend one last thank you to Speak Your Language, who have been our Gold sponsor for two years in a row. This kind of unwavering support is unmatched and highly appreciated.  
Thank you all for helping us to both celebrate and champion our passionate and dedicated individuals and teams.