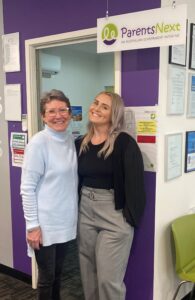 Life's challenges come in many forms. Lauren's challenge was navigating her re-entry to full time work after becoming a mother for the first time. She found our ParentsNext program and developed her skills to achieve her goal of working in Human Resources.
Becoming a parent for the first time can be a daunting, frightening and exciting time.
The experience of raising another human being for the first time is a lot to experience and can lead you down the path of also wondering how your parents managed it.
For Lauren, she became a single parent only months into having her son.
She had been a hairdresser for 20 years, but as her life changed with a new baby, she realised she was ready for a career change too.
"I was a new mum. I was new to the world of being a parent," she said, "I became a single mum when my son was just five months old and, at the time, I was receiving payments from Centrelink."
"I am a hairdresser of 20 plus years by trade, but when my son was born, I decided I needed a change. So, I utilised the time I had with my baby, and enrolled to study Human Resources when he was about seven months old."
Lauren enrolled at TAFE to study Human Resources and extend her working knowledge to broaden her career possibilities.
That's when she discovered Ability Options and its ParentsNext program.
"Not long after I enrolled in TAFE, I got a letter in the mail from Centrelink with a notice that I was eligible for the ParentsNext program at Ability Options," she said.
"I didn't want to participate initially. I thought, 'Why do I have to do this? I have a new baby and I'm studying, I'm in no way ready to re-join the workforce'."
Even so, Lauren attended her appointment with her ParentsNext Consultant Vicki and questioned why she needed to be there.
"Vicky was so patient and kind," Lauren said, "She explained the ParentsNext process and made me feel I was in no way pressured to get back into the workforce and made sure to inform me I was supported on my journey while parenting and studying."
ParentsNext is a service which helps parents with young children prepare for returning to work, by equipping them with the skills, confidence and support needed to prepare for – and find – employment or study options that suit them.
So, from 2018 to 2021 while also navigating being a new mum, Lauren kept going with ParentsNext and TAFE.
"I completed my course in December 2019. I was ready to go and get back into the workforce," she said.
"I was ready to start putting my new skills to use, but then COVID-19 hit. It was impossible to find work in HR when business was closing. No-one was hiring."
When the pandemic hit, business ground to a halt for some, made others homebound, and finding employment was a challenge for many.
"I was enjoying being a new mum," she said. "But I definitely was focused on completing my studies, and the plan for when it was finished was to be ready to get into work."
After the COVID lockdown in 2020 had ended, Lauren was eager to start searching for a position in Human Resources.
"I was having a hard time finding employment in HR," she said. "The market was still quite limited and presumably very competitive."
On her job hunt, Lauren came across an apprenticeship at a plant nursery. She went for the position, but was offered instead a casual position.
"My passion for plants was about to reach a new height," she said.
Unfortunately, when her son became unwell, so she took time off to care for him. On her return to work at the plant nursery, she was unfortunately let go. However, that didn't stop Lauren from working towards her goal of working in Human Resources.
"I had to have time off with my son when he was sick over the Easter break in 2021. When I returned the following week, I had some bad news."
Lauren had an appointment with Vicki a week or so later, told her what had happened, and she suggested Lauren should apply for a position with Ability Options – they were looking for jobactive Employment Consultants, and she said Lauren would be perfect for the role.
"Vicki assisted with tailoring my resumé and referred me to her manager. I got a pre-screen call, an interview and a week or so later got the call from my new manager Jess that I got the position as a jobactive Employment Consultant at The Entrance! I was so excited; it was one step closer to getting me into the world of HR."
Stepping back into the workforce did present a challenge as a new mum, but Lauren's drive and patience helped make the transition smooth.
"It was a smooth transition, though. He started going to day care two days per week care when I was studying, and then gradually built his days up in preparation for me to start working full time," she said.
Lauren was excited about the prospect of entering a whole new career path, what she would learn and what opportunities would come with it.
"I knew Ability Options from being a participant and did my research before the job interview. I was aware of the career progression that Ability Options supported," she continued.
"When I started the role, I had one week in the office. Then the 2021 COVID-19 lockdown came into effect, so I spent the first four months of my job working from home, in training, completing the modules, shadowing and then taking over the caseload."
"I loved being an Employment Consultant. It was so incredibly rewarding. I got to know my caseload and build a strong rapport with the majority of them. I assisted so many participants in overcoming barriers and gaining sustainable employment."
"It was an eye-opening experience, and I learned a lot about how vulnerable our participants were during that time. I also placed 21 participants into employment during that lockdown period."
Having the experience from being a participant of Ability Options to then being an Employment Consultant helped Lauren understand her new role.
"I had a relative understanding of my job's process and requirements," she said.
"As soon as I saw the open position as a Human Resources Advisor, I jumped at the chance with the full support from my incredible manager Jess. I knew the company structure, policies, and the procedures, which allowed me to jump straight into the role and commence training with my new, super supportive team."
"My favourite part of being with Ability Options is the work family I have gained. My team from jobactive, especially The Entrance, will be lifetime friends and I am so grateful to have had the pleasure of working with them every day."
With that, Lauren says, for anyone considering entering the ParentsNext program:
"Participate, take on the support and trust the process. Your Employment Consultant has your back, especially if it's Vicki from Bateau."
Find out more about our ParentsNext program below.