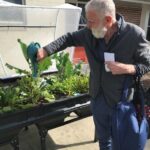 Having a concrete sense of belonging is something almost anybody would tell you is important to them. People find their sense of belonging in many ways.
Ability Options strives to support each participant through its services, to find their sense of belonging in whichever way they wish to. This goes beyond the day-to-day. We are always looking for ways to foster a greater sense of overall wellbeing.
Vegepod's GrowAbility program is an initiative being introduced to Ability Options' sites for people with disability to create and maintain a garden at their community home.
Gardening is one of the many activities that can get people outside for some fresh air, providing an opportunity to learn about plants and growing them. For people with disability, getting out into the garden can provide a range of health benefits.
The program offers participants the opportunity to develop their social connections, boost confidence and learn about nutrition. The Vegepods program gives participants a boost to their overall wellbeing, mental health and reduces stress levels.
The GrowAbility program was born from the belief that people with disability can benefit from time spent actively gardening, providing good opportunities for social interaction with others.
The program's main goal is to increase the capacity of people with disability to create and maintain an accessible garden and improve wellbeing in their day-to-day lives.
"We believe doing so has a positive impact in developing life skills, improving wellbeing and sense of belonging, reducing social isolation and boredom, and increasing community and social interactions. It also provides a way to contribute to the environment," Vegepod said.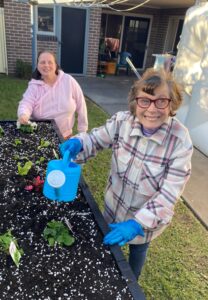 Kerry, Ability Options' Senior Manager for Property and Assets, said Vegepods (pods) have recently been installed at three of Ability Options' sites.
"Our teams have been working with Simon and Leia Holloway from Vegepod over the last nine months to kickstart the GrowAbility program at our sites. So far, we have installed two large Vegepods at our Casuarina Grove, Marayong, and The Ponds sites, meaning over 50 participants across these sites will have ready access to use these gardens on a daily basis," she said.
The pods are built at an accessible height for people of all abilities to have easy access to them.
Participants can grow all kinds of plants and vegetables, including beans, beetroot, strawberries, peas, lettuce and more.
Kerry said that the GrowAbility Vegepods program will help people with disability grow their sense of belonging in their communities.
"Gardening provides a great way to promote our wellbeing and gives us a good sense of belonging to our community. It helps form social relationships and reduces isolation. It's so great that we can provide this experience to participants," she said.
Read more about our Disability Services here.