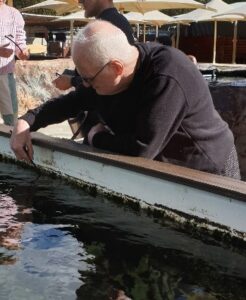 Experiences that offer learning opportunities is something Ability Options supports participants to do daily.
For participant Warwick, a keen interest in Australia's aquatic neighbours sparked his goal to visit The Shark and Ray Rescue Centre in Port Stephens.
Sharks and stingrays often get a bad rap in the media. From rare shark attacks to the tragic loss of treasured Aussie icon Steve Irwin, it's understandable that these wonderous sea creatures are seen as dangerous.
They aren't all bad, though, as Warwick learned on his day out. Many sharks and stingrays are harmless to humans.
It turns out these sea creatures, except for the Great White Shark, would rather avoid people altogether than go near them.
Warwick learned a lot about sharks and stingrays on his trip to the rescue centre, like that some sharks have skin-like sandpaper to help with reducing resistance when swimming, or that some go into an immobile, sleep-like state when turned upside down.
When he got to the centre with his support workers, there was a demonstration put on by one of the guides where they talked about the decline in shark populations across the world due to hunting.
The guide told visitors that sharks, in particular, are hunted by people in some parts of the world.
"Over 100,000 are killed every year," the guide said.
"Unfortunately, many sharks are hunted for their meat and fins, which are sold to Chinese fish markets."
Warwick learned that the overfishing of sharks is driven by international trade that goes way beyond their fins. In recent years, the shark meat trade has rapidly expanded and shark products such as cartilage and oil all contribute to the decline in their populations from hunting.
After the guide's demonstration, Warwick got to experience the centre's juvenile Guitarfish Sharks and stingrays up close – the guide told Warwick these species are harmless to people, especially when they're young. He learned how to safely be around them.
Warwick said his favourite part of visiting the rescue centre was being able to pat some Guitarfish Sharks, which are harmless to people, and feed the stingrays.
Warwick really enjoyed the day. After his visit to the rescue centre, he rounded off the day at McDonald's with a thickshake and an apple pie.
Ability Options is a proud provider of accommodation services to people with disability. We want to support you to live the life you want so you can be a part of your community, while feeling respected and having a sense of belonging. Find out how our accommodation services can support you on our website below.