Since leaving school in 2018, Ability Options participant Thomas has been working hard towards achieving his employment goals. Through our WorkReady program, he has gained a range of real-world experience in the culinary industry, and at just 24 years old, says he's fortunate enough to have already worked in many special places.  
Thomas has been employed far-and-wide, from the Magpies Leagues Club in Waitara in 2019, to Sancta Sophia College, volunteering for Our Big Kitchen in Bondi and earning his stripes in Barangaroo at Love Fish.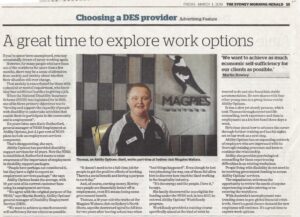 Long before exploring his career options in his late teens and working the many roles above, he's always had an underlying, untapped enthusiasm for cooking. 
"[Since my childhood] I've always had a deep passion for food, whether this being [at] family gatherings [or] giving mum or my great grandmother assistance when I was a little boy." 
Cooking is not only a passion-turned-career for Thomas, but it also holds another meaning near and dear to his heart.  
"For me, after losing my parents at a young age, I decided to keep on cooking, as it served a level of distraction, and I enjoyed making progress on my hobbies." 
Through Thomas' culinary journey, we can also learn that food is a shared passion. During the 2021 Sydney lockdown, being a budding chef looking to share his newfound talents with others, Thomas even started shared his recipes among fellow participants through hosting at fortnightly cooking workshops.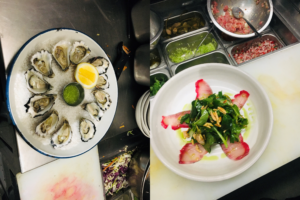 "I was blessed to see everyone asking questions and getting involved reminded me a lot of myself as a young boy!" 
These workshops empowered fellow aspiring chefs to share their love of food, expand their growing cooking skills, and work on new ideas collaboratively. Thomas highlighted these workshops gave him another purpose, and said he thoroughly revelled the opportunity to run them. Overall, this opportunity saw him grow in both his cooking skills and his overall confidence as a budding young chef.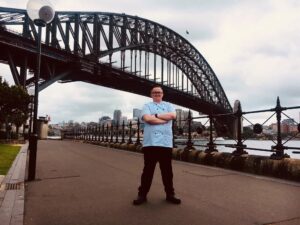 After feeling like he needed something to focus on post-lockdown, Thomas then started working as a kitchen hand at Love Fish – a high-end restaurant in Barangaroo, Sydney's go-to dining destination. As Thomas earned his stripes, showed promise, and began to achieve more and more in his role, Love Fish recognised his passion and asked him to take on being an apprentice-Chef.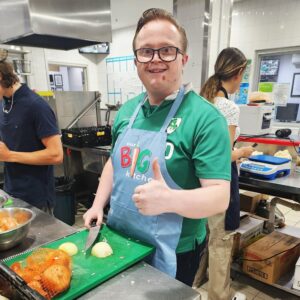 As well as working in Barangaroo, he has also really enjoyed giving back to people in the wider community through food. This was especially true during his time at Our Big Kitchen (OBK) in Bondi. OBK is a not-for-profit, community run, non-denominational, industrial kitchen. The organisation produces 250,000 meals each year, supporting over 30 charities, and helping thousands of disadvantaged people across Australia.  
In any young person's working life, it's crucial to gain a range of work experience and to reach your employment goals, but most of all, to find a purpose in your career. Working anywhere that is for-purpose, comes with it a feeling that is unmatched by any other. 
"I aim to motivate people who have ever dealt with any kind of adversity or struggles. I also aim to make people feel like they're full of potential and motivated to get out there and make themselves [feel] proud!"
"Hopefully my [success] story can encourage others to get out there, to not only work in kitchens but to pursue their own path and dreams in life!" 
Congratulations Thomas, the Ability Options WorkReady team are all incredibly proud of how far you've progressed in your career, especially in such a short period of time. It's only onwards and upwards from here! 
Has Thomas' story has inspired you? Are you looking to achieve your employment goals too?  
Our WorkReady team equips you with the skills, knowledge, and real-world experience for you to enter/re-enter work or gain further training with confidence. Find out more: NDIS Employment | Disability Services | Ability Options