05 May 2023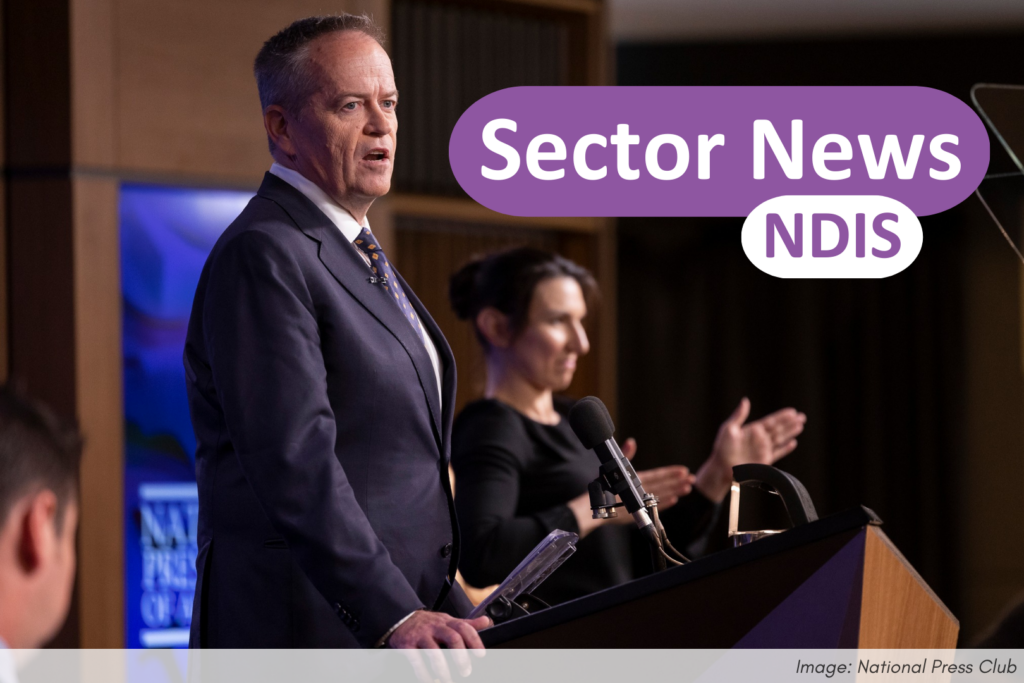 The National Disability Insurance Scheme (NDIS) is the focus of a corrective course being taken to ensure it fully supports people living with disability while being financially sustainable. 
National Cabinet announced a Financial Sustainability Framework which aims to ensure the NDIS can continue to provide life-changing outcomes for future generations of Australians with disability.   
In a media statement, Minister for the NDIS Bill Shorten MP said the government is investing more than $720 million over four years from 2023-24 to lift the National Disability Insurance Agency's (NDIA) capability, capacity and systems to better support NDIS participants. 
The framework will provide an annual growth spending target of 8 per cent by 2026, with further moderation of growth as the Scheme matures. 
Minister Shorten said this "will help ensure every dollar goes to support people with a disability". 
"These reforms are about ensuring the future of the Scheme in the best interests of the participants and our reboot is making sure every dollar gets through to the people the Scheme was designed for, NDIS participants with severe and permanent disabilities," Minister Shorten said in a statement. 
Ability Options, one of NSW's largest disability and employment services providers and sector advocate, Chief Operating Officer – Disability Services Luke Hughes said Ability Options supports sensible initiatives to ensure the NDIS is sustainable and that the scheme maintains broad public support. 
"There is a risk that demand will be reduced through exclusionary eligibility policy and that service quality will diminish if registered NDIS providers are continually asked to do more with less," he said. 
"The Australian Government must ensure its proposed funding restrictions are not contrary to the original principles of the scheme, nor be at the cost of people with disability." 
National Disability Services (NDS), the peak body for disability service providers, has welcomed the Federal Government's focus on ensuring the NDIS is sustainable, but CEO Laurie Leigh says there needs to be "careful modelling" to make sure this framework will not adversely impact  
"The NDIS is an essential lifeline of support for many thousands of people. Getting the balance right to make sure it is a sustainable program into the future is important," said Ms Leigh.  
"Capping the scheme's growth is one way to manage sustainability. However, there would need to be very careful modelling to demonstrate that this is not going to unduly cut people who need support out of the scheme or affect the plans that existing participants need." 
However, in Australia's capital, Greens Disability Minster Emma Davidson has been outspoken in her opposition to capped spending targets outlined in the framework. 
"National Cabinet's decision on NDIS investment is heart-breaking," Minister Davidson said in a video on her YouTube channel. 
"I cannot possibly support this. When people with disability can't get their needs met because NDIS are reducing costs, those needs don't go away." 
Kurt Fearnley, Chair of the NDIA, told the ABC while the target is a "challenge", he believes the agency is up for it. 
Key information about the reform
The government's investment in the NDIS includes 10 key initiatives: 
Investing in better decision-making processes and planner capability for participants with specialised needs.

 

Moving to less frequent plan reviews where it makes sense and committing to participants that not spending budgets won't affect future plans.

 

Improving lifetime planning approach to ensure plans are more transparent and flexible for life events. This includes the flexibility where participants do not need as much support at a stage of life but know that they can receive support as their circumstances change.

 

Better supporting participants to manage their plan within budget, including assistance from NDIA during the year and holding plan managers, support coordinators and providers to account.

 

Partnering with communities to pilot alternative commissioning to improve access to supports in remote and First Nations communities.

 

Working with participants and providers to trial blended payments to increase incentives for providers to innovate service delivery and achieve outcomes for participants and governments.

 

Establishing an expert advisory panel to list items to make it easier for participants to access proven evidence-based assistive technology and other supports.

 

Implementing preferred provider arrangements to leverage buying power of the NDIS.

 

Strengthening guidelines for planners on support volumes and intensity, and providing clear minimum standards of evidence for assistance with daily living.

 

Cracking down on fraud and non-compliance by funding, in addition to the Fraud Fusion Taskforce, 200 staff for two years and developing a business case for a new system to detect, prevent and reduce non-compliant payments.