Several years ago, we commissioned an artwork to act as a backbone of our (then) Stretch – Reconciliation Action Plan (RAP). So delighted with the result, we included this piece more broadly in the design of our Ability Options polo shirt uniforms. These polos are worn proudly by our colleagues when supporting our people to achieve their aspirations and inclusion in the community.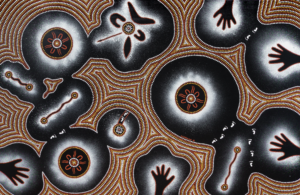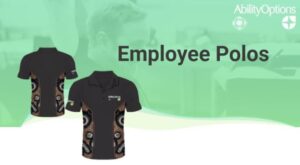 The artwork above was completed by Jade Williams, a First Nations' artist. Jade is a proud Wiradjuri /Paakantji man from Far Western NSW. With direct kinship and cultural connection to the Ngiyampaa and Yorta Yorta people, culture has always been at the heart of family life and underpins the way Jade views the world. 
"[I} grew up surrounded by strong people and culture in Wagga Wagga and Condobolin." 
From an early age, he'd always loved both drawing and painting. He was taught how to paint by an acclaimed artist in his late teenage years, and now uses these skills specialising in custom artwork to tell a story through the art of the world's oldest living culture. 
"By continuing to tell stories through art, [I} believe that all Australians can embrace the rich history of our country, learn from our past, and continue to pass stories down to enrich the lives of our next generations." 
View this post on Instagram
Our organisation's previous Stretch Reconciliation Action Plan (RAP) highlights that Jade's artwork "celebrates and acknowledges Ability Options' commitment in supporting people to make their lives better and [to signify] how reconciliation, connection and working collaboratively with Aboriginal and Torres Strait Islander peoples with a clear purpose could be achieved." 
In the spirit of a clear purpose in collaboration, our new Stretch RAP will seek to continue where we left off. Our highest priority is genuine engagement, with plans to engage with First Nations' people within the community to ensure they remain not only in the conversation, but are shaping and informing it, just as Jade has. His involvement especially has left a long-lasting impression on our colleagues who after many years, continue to present his artwork adorned on our uniform to the people we support.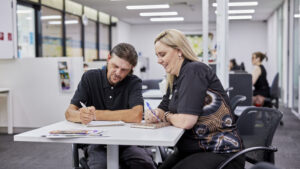 Thank you, Jade, for your contribution to our organisation and continuing to be a voice for generations.